中国是世界上最后一个结束银本位币制度的国家,世界上其他国家早已经退出货币流通领域的机制银币都随着旧中国国际贸易的开展而大量汇聚到清代和民国时期的旧中国流通。由于中国人民银行的长期大规模收兑银元的行动使得民间老银元的实际存量越来越少,而随着时间的推移最终成为稀有的文物收藏品的。
China is the last country in the world to end the silver standard currency system. With the development of international trade in old China, the other countries in the world have already withdrawn from the mechanism of currency circulation. Due to the long-term large-scale collection of silver dollars by the people's Bank of China, the actual stock of old folk silver dollars is getting smaller and smaller, and over time it eventually becomes a rare collection of cultural relics.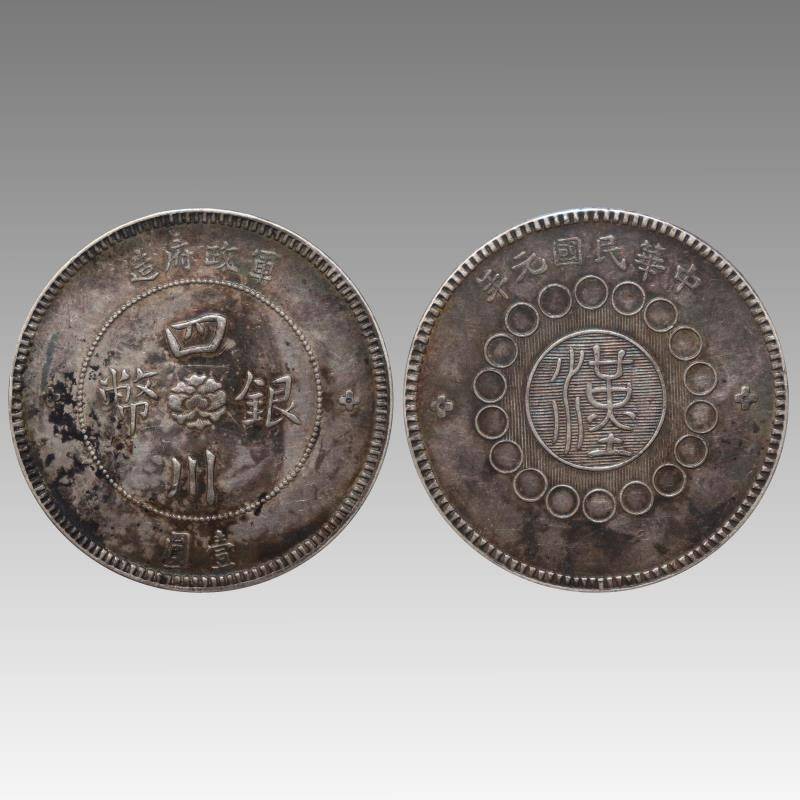 1911年5月,腐败的清政府假借铁路国有化名义,将民办川汉、粤汉筑路权出让给英法德美四国银行团,激起全国各地人民的反对,四川省反响尤为强烈,数十万人参加了保路同志军。武昌起义后,各省先后宣布独立,保路军包围了成都。赵尔丰控制不住四川的局面,只得将政权交给四川保路运动的领导人蒲殿俊等立宪派人士。于是,四川省也宣告独立,成立了"大汉四川军政府",并接管成都造币分厂。为扩充军需,铸造发行了这种"汉"字银币。
In May 1911, the corrupt Qing government in the name of railway nationalization, private Sichuan and Han, Guangdong and Han Road building rights to the British, France, Germany and the United States four banking groups, aroused opposition from people all over the country, Sichuan Province particularly strong response, hundreds of thousands of people participated in the Baolu Comrade Army. After the Wuchang uprising, the provinces announced independence, Lujun surrounded Chengdu. Zhao Erfeng can not control the situation in Sichuan, had to hand over the regime to Sichuan Road Movement leader Pu Dianjun and other constitutionalists. As a result, Sichuan Province also declared independence, set up the "Great Han Sichuan military government ", and took over the Chengdu Mint branch. In order to expand the quartermaster, the word "Han" was cast Silver coins.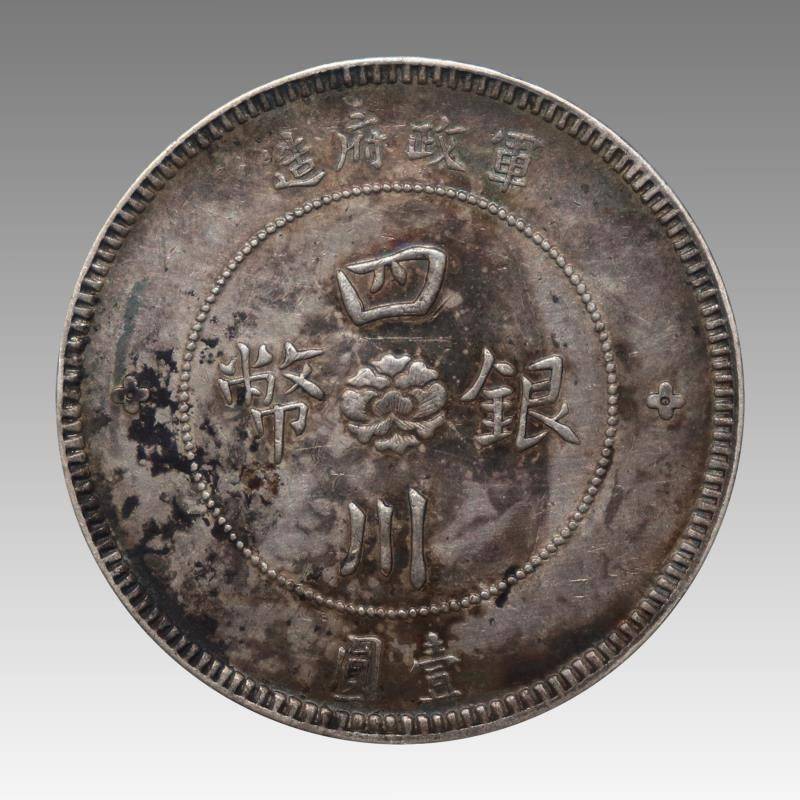 在推翻封建王朝建立民国的过程中,军政府曾发挥过重要作用(后来演变成军阀混战)。军政府作为非常时期的区域性临时政府,曾发行过货币,如湖北军政府和四川军政府,都发行过铜币,但只有四川军政府发行过银币,非常珍罕,历史价值浓厚,意义巨大。这些货币,开始是为了筹措军饷,维持政府开支,后来也成为了区域性的货币,因而军政府货币具有军用货币和民用货币的双重职能,意义重大。
In the process of overthrowing the feudal dynasty to establish the Republic of China, the military government played an important role (later evolved into a warlord melee). As a regional interim government in the extraordinary period, the military government has issued currency, such as Hubei military government and Sichuan military government, all of which have issued copper coins, but only Sichuan military government has issued silver coins, which are very rare, with strong historical value and great significance. These currencies, which began to raise salaries and maintain government expenditure, later became regional currencies, so the military government currency has the dual functions of military currency and civil currency, which is of great significance.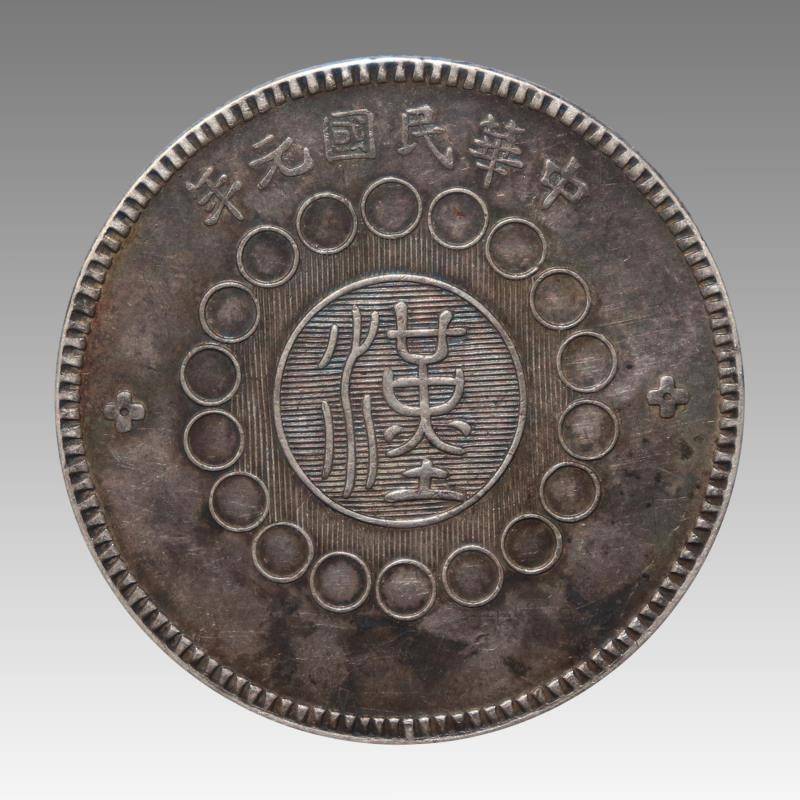 此钱币直径:3.926cm,重量:25.7g,正面以珠圈分隔为内外两区,外区上缘书"军政府造",下缘记币值"壹圆",两侧各有一粒十字花星,小巧精致,内区书直读"四川银币",字体端庄,圆润可爱,中间镌一朵精美的芙蓉花,象征蓉城成都。银币背面上缘纪年"中华民国元年",两侧亦各有一粒十字花星,中间有一大圆圈,内篆书"汉"字,代表了新政府"大汉"的意思。"汉"字底下有横向底纹装饰,旁围十八个小圆圈组成的圆圈,内镌纵向饰纹,象征着当年响应辛亥革命的十八个省。整体设计精美,极具收藏价值。
The diameter of the coin is :3.926 cm, weight :25.7 g, the front is separated by bead circles. The upper edge of the outer area is "made by military government ", the lower edge is" one round ", each side has a cruciferous star, small and. On the back of the silver coin, the first year of the Republic of China, there is also a cruciferous star on both sides, there is a big circle in the middle, and the word "Han" in the inner seal script represents the meaning of "Han" in the new government. Under the word "Han" there are horizontal shading decoration, surrounded by 18 small circles Circle, engraved vertical ornaments, symbolizing the response to the Revolution of 1911 18 provinces. The whole design is exquisite, has the collection value extremely.